Generate New Leads for Penumbra Mass Tort Lawsuits
The Penumbra JET 7 Reperfusion Catheter is for use in stroke patients. It's used to remove blood clots from blood vessels in the brain and is optimal for those who don't qualify for medication or other forms of treatment. It can effectively suction out blood clots within eight hours after the patient suffers an acute ischemic stroke and symptoms begin.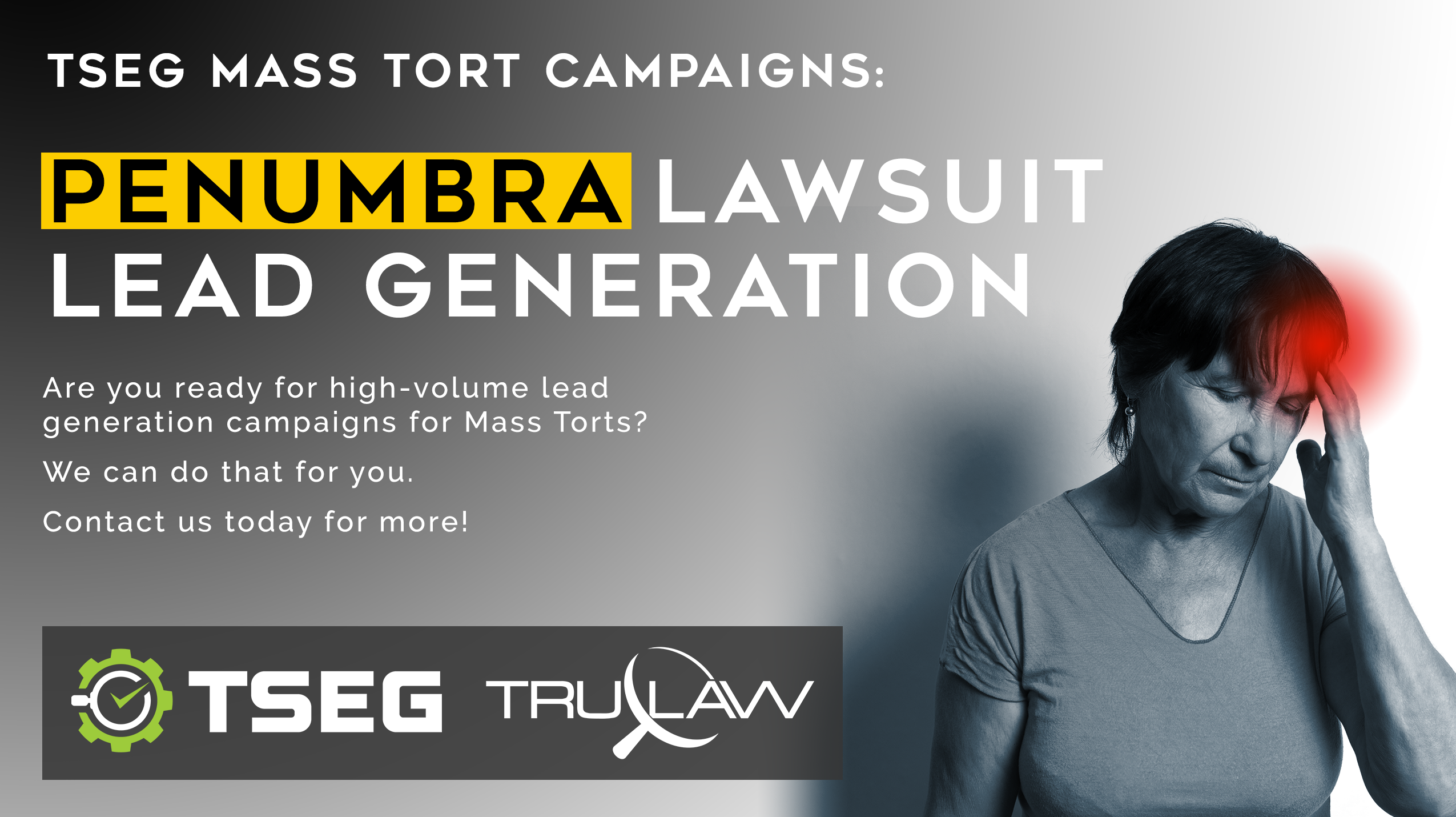 Unfortunately, defective parts and malfunctions have made the medical device unsafe for users. There's a risk of adverse side effects, including severe medical conditions and even death. TSEG understands the importance of reaching individuals interested in filing lawsuits against the manufacturer for the harm they suffered. We can help you create the right mass tort campaign to generate new leads that can increase revenue and grow your firm. For a free estimate for a marketing plan designed for you, call us at (512) 394-7234 right now.
Voluntary Recall of the Penumbra Catheter
The U.S. Food and Drug Administration announced that Penumbra issued an urgent recall of its catheters due to the risk of injury and death to stroke patients. In December 2020, the FDA urged users to avoid removing blood clots with the Penumbra Jet 7 Reperfusion Catheter while directing medical facilities to remove them from their inventory immediately.
The recalled catheters include:
Jet 7MAX configuration, including the MAX Delivery Device and JET 7 Xtra Flex catheter
Jet 7 Xtra Flex catheter
This voluntary recall occurred after the FDA received more than 200 reports of the device malfunctioning, resulting in severe injuries, fatalities, and other issues. The manufacturer performed bench testing and discovered that while removing blood clots from patients with acute ischemic stroke, the distal tip can't handle burst pressures that larger catheters can withstand.
Although more studies are necessary to conclude an actual link exists between the catheters and reported side effects, common problems researchers discovered are:
Detachment or fraying of the distal tip
Distal tip fracture
Ruptured device
Leakage
Expansion or ballooning of the device, leading to damaged blood vessels
Exposure to support coils in the device
Common Side Effects Caused by a Defective Penumbra
The risks associated with using Penumbra catheters are significant. Victims and their families suffer economic strain and emotional distress while the victim recovers from injuries they sustained from the malfunctioning device. Potential injuries and medical conditions people might face are:
Coma
Brain damage
Hemorrhage
Damage to blood vessels
Stroke
Death
Published reports note twelve deaths between 2019 and 2020 of patients undergoing procedures involving the JET 7 Xtra Flex catheter. Researchers determined the complications associated with the device were from the distal tip fracturing or the entire device expanding in the blood vessel. Out of these fatalities, there were reports of an arterial rupture occurring in eight different patients.
Who Qualifies for a Lawsuit Against the Manufacturer?
Anyone suffering complications following a thrombectomy involving the use of a recalled Penumbra catheter may be entitled to compensation from the manufacturer. These clients likely incurred various expenses to treat their injuries. They need an experienced attorney to guide them through the legal process and help them recover the compensation necessary to pay for their medical bills and other costs.
It's critical that your law firm is at the top of the list of attorneys for potential clients to call. We can determine the suitable campaigns to run so people within this demographic see your website and want to reach out to discuss their case with you.
Marketing is more than just placing ads on the internet and hoping they reach your desired audience. You have to know which platform or combination of platforms to use and how to engage with clients who want to sign with you. And we do.
A Successful Mass Tort Campaign Doesn't Have to Break the Bank
It's possible to generate leads using a comprehensive campaign strategy while staying within your budget. When we're determining which platforms to use and when to run digital ads, we will consider how much you're willing to spend and find a way to meet your needs without exceeding the budget you set. We can monitor the progress of these campaigns and decide what is and isn't working for your firm.
Once we nail down the right plan, we can use the data that comes in to cast a wider net and reach a much larger audience. The goal is to get your website in front of individuals injured by the Penumbra catheter who might want to pursue a legal case.
When they search for specific keywords, a landing page we built could pop up right in front of them on the search page. All they have to do is click on it to see the services you provide. We can create a simple questionnaire that they can fill out to learn whether they're eligible for a lawsuit against the manufacturer.
Contact TSEG
The marketing team at TSEG knows that your ultimate goal is to get new cases. Engaging with your target audience and turning leads into signed clients can increase your revenue and improve your overall growth as a law firm.
You don't have to spend a lot of money to become a relevant presence on the internet. With the correct ad placement and marketing campaigns, the demographic you're trying to reach will want to visit your site for informative and even entertaining content. Putting the right message out there lets the user know who you are, what you believe in, and how you can help in their time of need.
Penumbra catheters have caused significant medical problems for injured victims and their families around the country. Do not hesitate to contact TSEG so you can get ahead of the competition and prevent potential clients from hiring someone else.
We will look at your current campaigns to determine what's working and what needs to change. We will then discuss your budget and use the most cost-effective platforms for your ads and digital content. Once everything is up and running, we can analyze the data and monitor the campaign's progress.
Call us at (512) 394-7234 right now for your free estimate.