Discover New Leads With A Mass Tort Campaign from TSEG
Because of injuries that occurred in the unprecedented winter storms, Texans are filing lawsuits against the utility companies. Power outages led to physical injuries, hospitalizations, property damage, and various other complications for victims and their families. Injured people are hiring law firms to represent them in their cases and help them pursue the compensation they need to cover their losses. They deserve to hold certain parties accountable for making the decisions that put them in danger.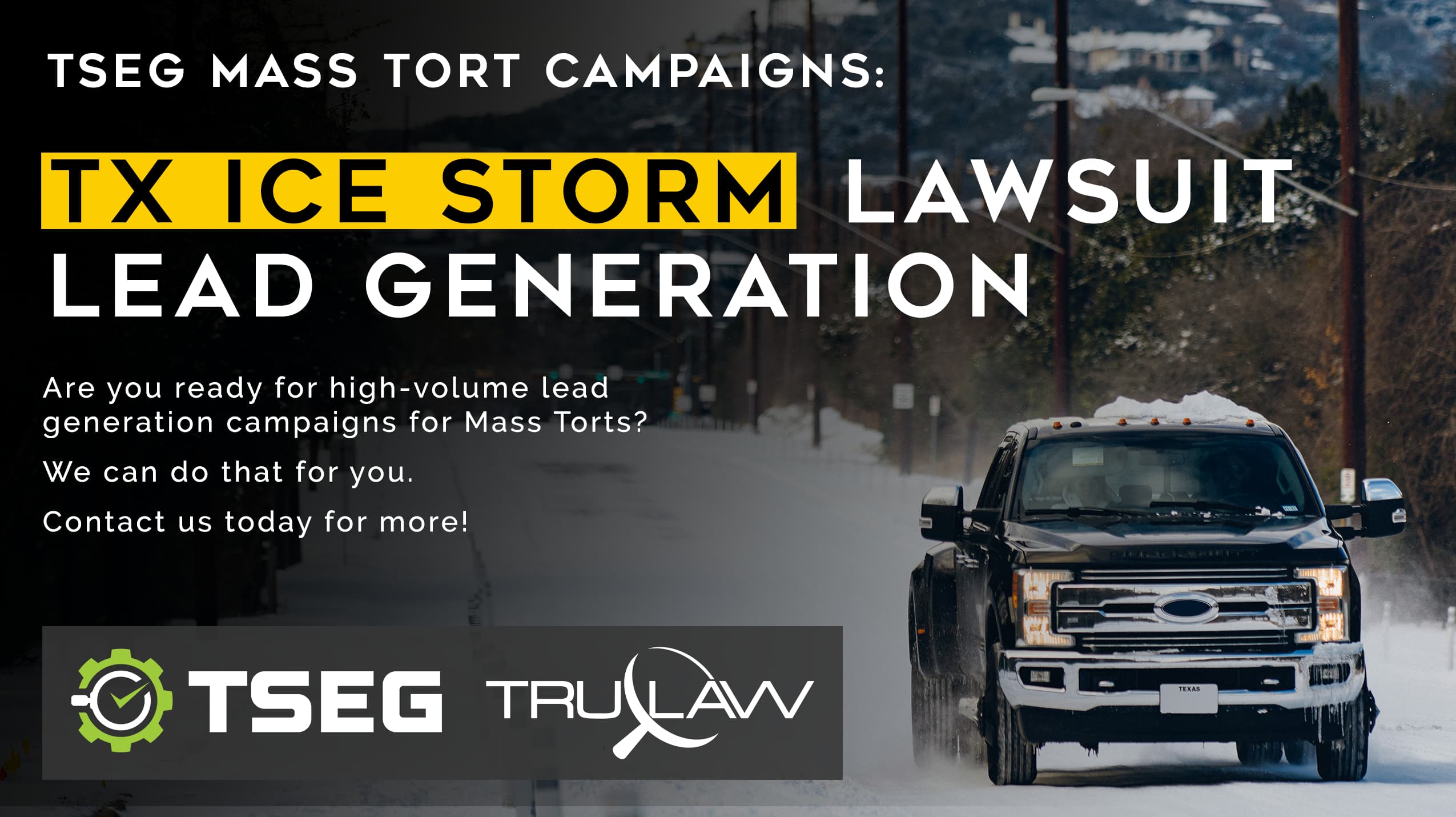 At TSEG, our experienced marketing team will dedicate the necessary time and effort to creating an effective and affordable advertising campaign. We can help you reach your target audience and generate new leads. We utilize platforms, such as Facebook and Google to create engaging content that stays within your budget. We're familiar with SEO content, social media advertising, and other elements that refine your website's performance and serve your needs.
The clients you're trying to gain are probably actively researching the effects of the Texas ice storms and the best ways to recover monetary compensation for their clients for the harm they suffered. We will use our knowledge of SEO and mass tort campaigns to secure your spot at the top of search engine results. TSEG is ready to optimize your search rankings to get you ahead of the competition. Call us at (512) 394-7234 for a free estimate or to learn more about our services.
Ice Storms In Texas
Winter storm Uri brought record-breaking amounts of snow and ice to Texas and other parts of the country. Following some of the coldest temperatures of the last three decades, the storm moved through the state and left millions of residents without water and power. They were forced to endure freezing temperatures while trapped in their homes for days. Unfortunately, the results were catastrophic. Many people sustained injuries, and many others lost their lives.
Medical-related problems aren't the only complications people are facing after the deadly winter storms. Many are preparing for the increased cost of energy bills from skyrocketing fuel costs. This creates significant economic strain for families unable to afford higher electric bills while paying for medical treatment, funeral services, and other expenses.
Additionally, property repairs have become a reality for thousands of homeowners and business owners. They're grappling with leaky roofs, flooding, broken pipes, structural damage, and other problems.
Power companies should have prepared much better for dangerous weather conditions like these. They failed to keep the community members safe because they put profits over a more efficient and reliable electrical grid. Their negligence led to preventable injuries and property damage.
Families are trying to recover from the harm they suffered and the death of loved ones. They need assistance from a dedicated and experienced attorney like you. TSEG is ready to maximize your online visibility and turn leads into actual signed clients. Now is the time to reach out to us and speak with a skilled and knowledgeable marketing professional.
Who To Hold Liable for the Power Outages In Texas
The Electric Reliability Council of Texas Inc. (ERCOT) is responsible for providing power for 26 million residents in the state of Texas. Along with other utility companies, they are facing lawsuits for their negligent actions that injured innocent people and caused extensive damage to commercial and residential properties.
Reports found that most deaths were from hypothermia, but some can be attributed to:
Fires
Car accidents
Worsening symptoms from chronic illnesses
Carbon monoxide poisoning
Failed medical equipment
Lack of home oxygen
Falls
Water contamination
Up to nine inches of snow in some areas of the state resulted in 4 million people losing power. ERCOT allegedly refused to upgrade their equipment to prepare for harsh winters despite receiving multiple recommendations from the Federal Energy Regulatory Commission and the Public Utilities Commission of Texas to do so. Their decision put a lot of people at risk, and they should face the consequences of their actions.
Get More Cases Through Digital Advertising
Advertising for mass tort litigation means the content you're putting out there must reach people entitled to compensation for the losses they suffered during the ice storms in Texas. You're targeting specific demographics that are actively looking to hire someone to represent them in their cases.
Relying on referrals and old-school marketing techniques is a thing of the past. More people are turning to the internet to find the services they need. That means you have a unique opportunity to implement suitable updated methods to produce your desired results.
TSEG will analyze the advertising strategies you're already using to determine whether they've been effective in engaging users and generating leads. We can keep what's working and change what isn't. We'll create a campaign among different digital platforms and monitor its progress. As we're reviewing the data, we'll find and refine the methods that make your firm stand out and get noticed.
Placement at the top of search engine results is vital since most people don't want to spend hours clicking on different links. If they see your website first, we can get their attention and convince them that they should hire you.
Contact TSEG for A Free Estimate
Do not hesitate to contact TSEG to discuss the best way to develop a legal marketing campaign that helps your firm grow. People who were impacted by the Texas winter storm need and deserve legal support and representation. We're ready to launch a new campaign that improves your online presence and puts your law firm securely in front of those seeking compensation for their medical expenses and other monetary losses.
Our team of professionals will work hard to guide you through each step of the marketing process to help you achieve your goals. Whether you're just getting started or need to update your current advertising strategy, you can depend on us to meet your needs. We're available 24/7 to assist you at a time that's most convenient for you. Call us for a free estimate or fill out our online contact form.