OTT / CTV Advertising
Cutting the Cord
The digital advertising world is evolving at light speed. "Do you still have cable?" – chances are that you have been asked this question at least once in the last five years. It's apparent that nowadays people are more prone to cut the cord and get their entertainment from streaming it over the internet.
According to Leichtman Research Group, cable and satellite TV viewership is plummeting at a rate of more than three million video subscribers per year. Meanwhile, America's streaming TV audience is mushrooming exponentially as it rushes into the void created by an estimated 63 million cord-cutters.
We are witnessing the migration of scheduled TV programming to personalized, on-demand channels. Today's TV viewers aren't restricted by the TV Guide channel to see what programs are on the air. They don't need to setup their DVRs and TiVos to record the next episode. Instead, they have the power to navigate the same content in a way that fits their busy schedules so they can binge-watch whatever they want, whenever they want.
Parks Associates estimates that 85% of Millennials already subscribe to at least one OTT video service. OTT (over-the-top) services include popular streaming platforms like Netflix, Hulu, HBO Now, YouTube TV, and Amazon Prime Video to name a few. All of these services offer pricing options that are extremely difficult for Cable and Satellite TV to compete with. More specifically, OTT does not force customers to pay for bundles that include channels that they have no interest watching – it's just one price for all-access.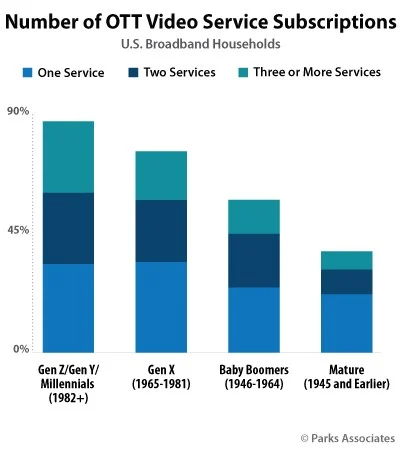 Furthermore, Forbes claims that 70% of American households now subscribe to at least one streaming service. That's over 225 million Americans! Additionally, many advertising researchers such as AdWeek and SmartyAds project that this trend will continue for well over the next five years.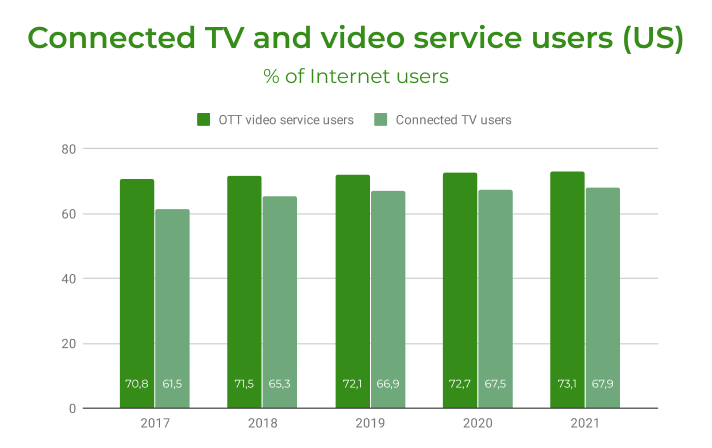 OTT and Legal Marketing
What exactly is OTT and CTV advertising and what does it have to do with legal marketing for law firms?
Until recently, most small and mid-sized legal practices didn't possess the budget required to advertise on networks like CBS, NBC, ABC, FoxNews, CNN, ESPN etc. That has changed. Today, Internet-Connected TVs (CTV) and OTT platforms provide new opportunities for any firm to stream its advertising locally on major networks. Most importantly, the hyper-local precision capabilities of geo-targeted OTT Advertising makes it one of the most powerful emerging platforms available to legal marketers today.
Streaming services like AppleTV+, Roku, ChromeCast, and internet-connected Smart TVs are able to serve predominantly non-skippable, targeted ads to just about any geographic, demographic, or psychographic audience imaginable. The possibilities are truly astonishing. Below are some of the targeting options available through several OTT and CTV providers.
Demographic Targeting
Allows your law firm's ads to target gender, age, language, education level, income, and more.
Geographic Targeting
Allows your law firm to serve ads based on the viewer's location, increasing local relevancy.
Behavioral Targeting
Allows your law firm's advertising to target relevant interests and online browsing.
Time-of-Day Targeting
Allows your law firm to show ads when your audience is most active to increase response.
Contextual Targeting
Allows your law firm to target viewers watching content directly relevant to your campaign, maximizing results.
Technographic Targeting
Allows your law firm ads to be served based on device, connection speed, and operating system to better suit ad creatives.
Start Your Law Firm's First OTT Campaign
Competition for the top cases is fierce and continues to increase. If your law firm is searching for more effective ways to reach particular areas of the country, OTT Advertising offers a previously unparalleled opportunity for legal marketers who absolutely insist on growth.
For lawyers that believe in the power of video to reach the clients they serve, OTT Advertising opportunities are financially accessible and highly effective. TSEG manage emerging digital growth strategies for an exclusive group of the most ambitious legal marketers throughout the United States.
Schedule your private 30-minute phone consultation to determine whether OTT/CTV Advertising is an opportunity your firm can leverage in the coming year.