Are you taking full advantage of Google's newest tool to get more leads and more clients?
With the search engine giant's new Google Screened, prospective clients will know immediately that your firm has been verified and confirmed as trustworthy and recommended. If approved, your law firm's search results will show up with a small green checkmark, and the Google Screened badge underneath. That will let people know that you passed extensive background checks and will provide them the legal services they need.
After signing up for the Google Screened program, you can build a more solid online reputation. If other firms in your field aren't using the program, you'll likely appear more attractive to people searching for your services. Your website will also show up at the top of search results when you run local service ads. You'll reach a much larger audience, and people will feel more confident in hiring you.
To find out more information or get assistance with applying for the Google Screened program, contact TSEG at (512) 394-7234.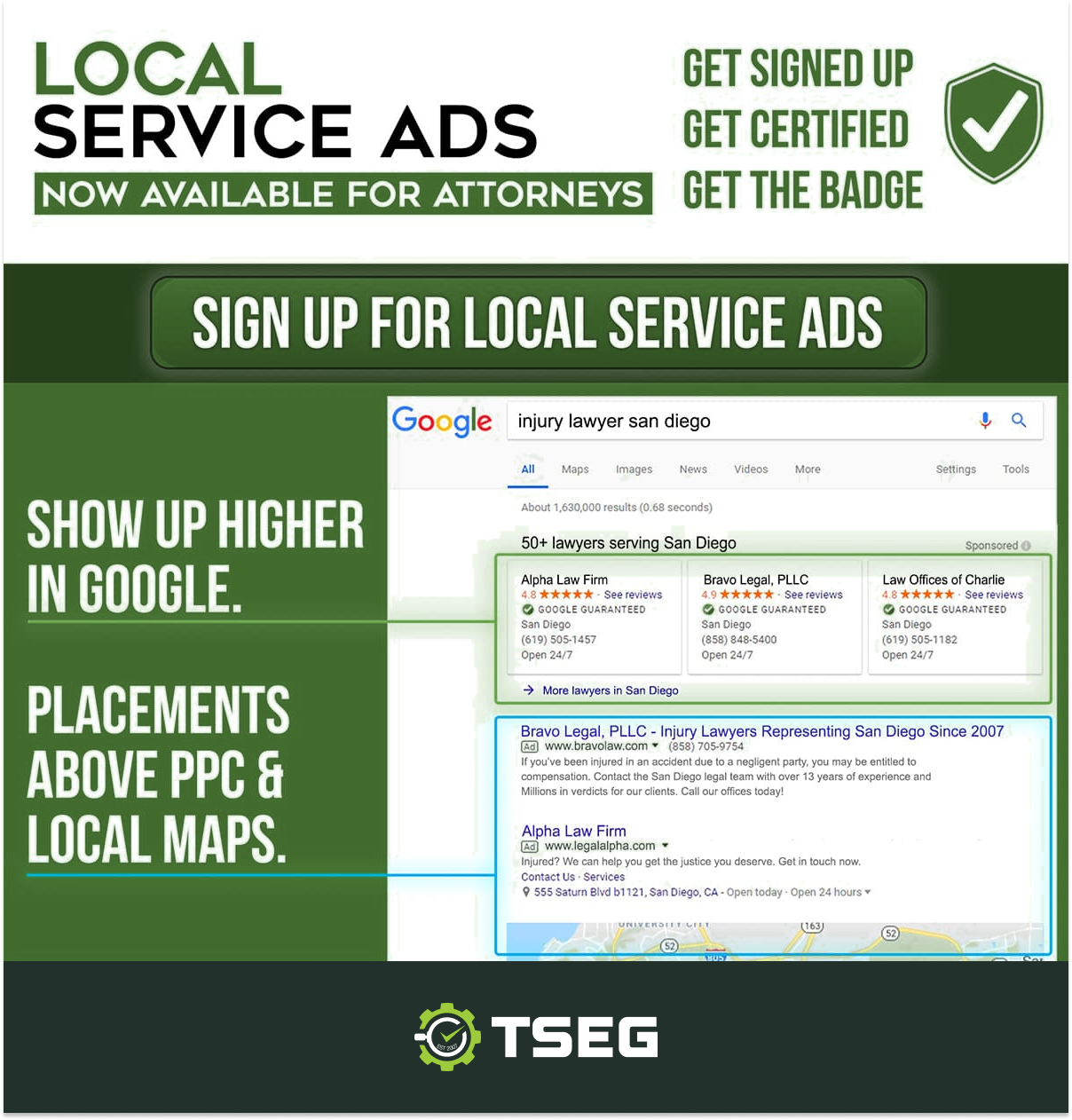 The Importance of Local Service Ads
Local service ads are a specific ad format available to business professionals. Your ad will show up at the top of a Google search results page when someone searches for your legal services in their area. If they want to call or send you a message, they can click on your ad. This will generate a lead and send you a notification so you can reply.
It's crucial that you turn on your notifications to respond to all calls and messages promptly. Even if you're unable to take their case, you should still get back to them. If you regularly miss calls and messages, it can affect your online ranking.
When Google determines your Quality Score for regular ads, they will combine ad relevance, click-through rate (CTR), and landing page performance. Local service ads for law firms are a bit different. Your ranking will depend on the following factors:
Law firm reviews
Business hours (24/7 availability can rank higher)
Response time and quality
Proximity to the potential client's location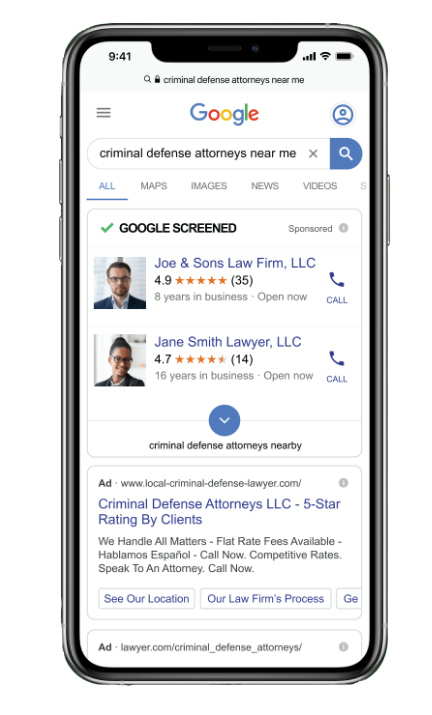 The Differences Between Google Guaranteed and Google Screened
Google launched its Google Guaranteed program first. While both provide consumers with ease of mind when searching for business services, Google Guaranteed offers a money-back guarantee. If you're not satisfied with the services you booked through Google, you could receive a maximum of $2,000 (lifetime limit).
Both programs require businesses to pass extensive background checks, but Google Screened applicants must also maintain a 3-star rating or higher from clients. Additionally, it's for professional business services, while the Google Guaranteed program is only offered to in-home service providers, such as plumbers.
Eligibility for the Google Screened Program
To apply for Google Screened, your firm must offer representation in one of the following practice areas:
Bankruptcy
Business
Contracts
Criminal
Disability
DUI
Estate
Family
Intellectual Property
Immigration
Labor
Litigation
Malpractice
Personal injury
Real estate
Tax
Traffic
You must also meet the following requirements:
Maintain at least a 3-star online rating from clients
Pass a business-level background check
Pass a business-owner background check
Pass a state bar membership check (for each lawyer at the firm)
Have malpractice insurance
These requirements will ensure potential clients that you were thoroughly vetted and provide dependable legal services that they need. When they find you online, they'll know other clients were satisfied with your services and receive the same level of care.
How to Sign Up for the Google Screened Program
To sign up, go to this link and click Get Started. To begin the process, you'll need to choose your practice area and enter some business information. Information that could increase your exposure is the number of lawyers at your firm. They must provide their license information, which Google will use to create individual profiles for each.
Another useful feature is entering the year you founded the firm. You could drastically affect the click-through rate if your firm began, say, 20 years ago. A tagline with the year your firm was established will always show up next to your business profile.
You must also include the address for your main office, so Google knows the area you're targeting. If you want to expand where you might reach potential clients, you can add additional cities. For a more localized area, you can also enter specific zip codes.
After setting up initial information about your law firm, you'll move onto the types of legal services you offer. You can choose from a list based on your practice area. For example, if you're a criminal defense lawyer, you can select from options, such as domestic violence, drug possession, and DUI.
The last piece of information you'll need to enter is your business hours. With this program, your hours work similarly to Google My Business. Focus on the specific times you would like your ads to run to reach your target audience.
After entering all of the details above, you're ready for the screening process. During this process, you'll need to provide the following:
Headshot to use for your ads
Bar membership information
Proof of malpractice insurance
Submit to all background checks
Pull customer reviews to link to your account
Each step takes around 2-3 days for approval. However, background checks might take longer to complete. During this process, you'll have the opportunity to review the recommended budget Google provides based on the previous details you provided.
Your budget will depend on the number of leads you receive from local service ads. You can choose the budget Google provided, or customize your budget with a sliding scale that shows pricing based on your target weekly leads. If your budget is lower than your competitors and likely won't achieve noticeable results, you'll see a message below the scale.
Let TSEG Help You Get Started with Google Screened
If you want to learn more about the Google Screened program, contact us today. Our experienced team can help you create a plan that fits within your budget and reaches your target audience. We'll ensure your ads generate valid leads to help grow your business.
If you have questions about our services or need assistance signing up for the Google Screened program, call us at (512) 394-7234.