TSEG Wins The Internet Advertising Competition (IAC) Award for Best Legal Social Media Campaign
Posted on Tuesday, April 5th, 2022 at 8:16 pm
Paraquat and Parkinson's Disease Lawsuit Campaign Selected by The Web Marketing Association
AUSTIN, TX (TSEG) APRIL 5, 2022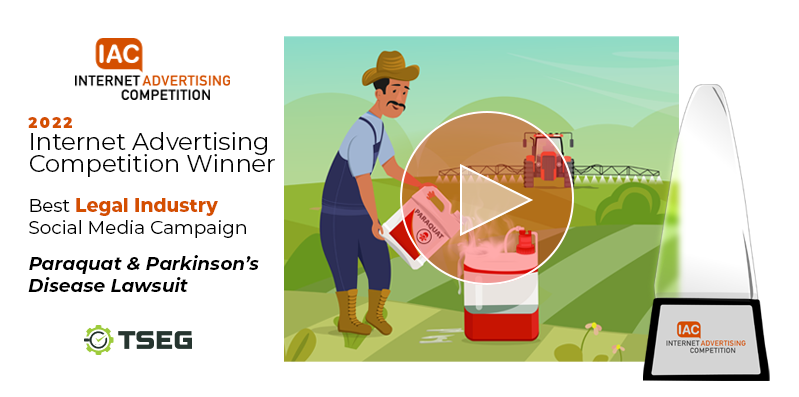 Our social media lead-gen campaigns for the Paraquat & Parkinson's mass tort litigation have been announced winners in the 2022 Internet Advertising Competition Awards developed by the Web Marketing Association to honor excellence in online advertising. TSEG have been selected as the winner of the Best Social Media Campaign in the Legal Industry for 2022. This is our second WMA Award, following the 2019 WebAward for Outstanding Achievement in Web Development for one of our websites.
The Web Marketing Association (WMA) was founded in Boston in 1997 to help set a high standard for Internet marketing and corporate web development. The IAC Awards were initiated in 1999 to recognize outstanding companies and individuals in their respective industries. Judging is based on creativity, innovation, impact, design, copywriting, use of the medium and memorability. Judges are carefully selected for their professional experience and an in-depth understanding of the current state-of-the-art in advertising design and technology, as well as the objectivity to score entries according to a predefined set of criteria.
2022 judges represent some of the best in the Internet Advertising community: Facebook, Google, Hewlett Packard Enterprise, Ogilvy Consulting, AP3net/GOMO Interactive, American Osteopathic Association, Infosys Technologies, Punchkick Interactive Inc.
The winning campaign features an animated video ad that educates the audience about the threat Paraquat poses to farmers, the jobs Paraquat most likely affected, and what to do if they believe they have a valid claim to a lawsuit against the manufacturer. The audience consists of farmers and their loved ones who may have been exposed to the dangerous chemical herbicide, Paraquat, which has been linked to causing Parkinson's Disease after long-term exposure in the workplace and by living near crop fields. The ad, when clicked, directs the viewer to an interactive qualification quiz that will qualify them with just a few questions. Upon qualification, they are presented with an attorney retainer and information on the next steps for follow-up conversations if they choose to have their claim filed.
About TSEG.com—Legal Marketing Agency | Website Development | SEO | Mass Tort Advertising
TSEG build conversion-focused websites for SEO clients and non-SEO clients alike. We manage our client's presence on all of the major social media platforms. Our Pay-Per-Click (PPC) team is ready to run campaigns focused on getting you the most clicks for the best price, and we're at the forefront of paid advertising on social media networks like Facebook.
TSEG is owned and developed by Cloud[8]Sixteen, Inc. Chris Massaro is the company's CEO and a Paraquat Account Executive alongside Jessica Bitterman and Brian Massaro. Creative direction for the campaign by Rafael Lemus, and campaign management by Todd Neer. Website and interactive questionnaire managed by CTO, Cody Gipson.