Are You Amped about AMP?
Posted on Tuesday, January 31st, 2017 at 4:01 pm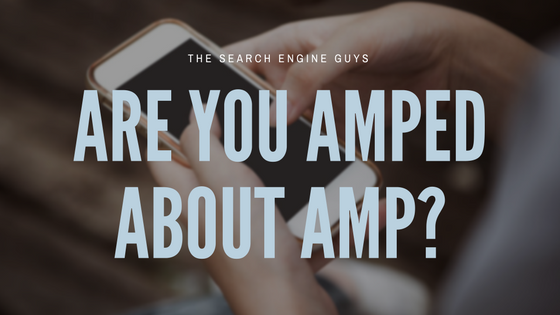 Accelerated Mobile Pages, or AMP, have recently been gaining a lot of attention, even though they were first announced in 2015 and were implemented in 2016. We've been receiving lots of questions about the value of AMP, especially when it comes to the search results. So far, we have been able to identify some positive features and a few drawbacks to these pages.
For those of you are interested in, here's what we've gathered so far.
What is AMP?
AMP is an open source project that is a subset of HTML, the markup language and specifications for making websites. AMP has restrictions on the type of HTML tags website creators use that allow a mobile web page to load faster. It also includes a proprietary version of JavaScript, which also puts limits on functionality in favor of speed. It was initially engineered by Google, and therefore is obviously of import to SEOs. This is a continuation of Google's push for more mobile-friendly web design.
The standard was first announced in 2015, began appearing in mobile search results last February, and was rolled out onto Google's global mobile search results last September. Because AMP is a mobile standard, it only appears on smartphones, tablets, and other smaller-scale devices. It has no bearing on search results on PCs and laptops.
Benefits of AMP
The goal of AMP is to provide speed to mobile webpages, and that's where it shines. Page speed is a very minor factor in Google's ranking algorithm, but it's incredibly important to mobile web users. As more people are searching via mobile platforms, the value of page speed becomes clear. If a webpage takes more than a few moments to load, many people simply hit their back button and go to the next one, which may load faster.
AMP pages have been receiving favorable treatment on search results pages, and even get a nifty lightning bolt icon next to their listings that indicates their AMP status, as shown below.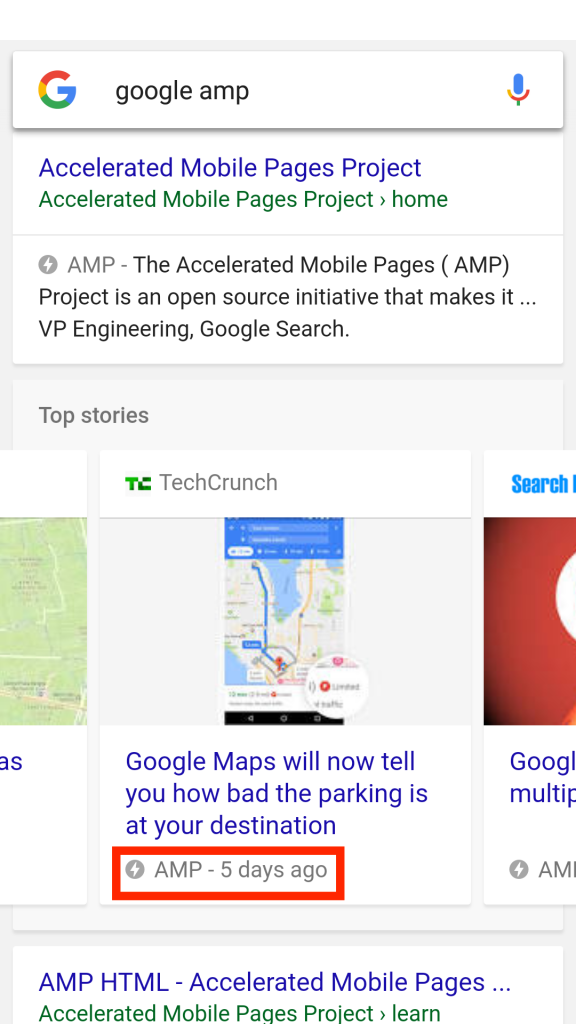 As a result of their zippy load times, which are essentially instantaneous, visitors may be less likely to bounce off of AMP pages, which can have an indirect effect on rankings as well.
Drawbacks of AMP
For all of these benefits, it's hard to imagine why we may be hesitant to add AMP to sites.
Many of our clients have some form of live chat on their sites. Because AMP pages are using a barebones version of HTML that severely restricts the types of elements that can be included in favor of reduced page load times, the JavaScript that chat systems (like Ngage Live Chat for attorneys) is built in won't work in some cases. This can have a very real impact on lead-capture systems that may outweigh the load speed improvements AMP may provide.
AMP pages are also stored on Google's servers rather than your site. Any AMP page that appears in a search result is essentially a copy of that page that exists on Google's servers rather than your web host's. While this isn't a problem per se, it does transfer a lot of control to Google, since it makes your visitors Google's visitors. This also has the added problem of making it difficult to share AMP links, because the URLs for the links are obscured.
Final Thoughts
AMP can be a great option if your website delivers only text and images, or if you want to keep things relatively simple. With that in mind, sites like that would load quickly anyway, though the boost AMP's framework provides is welcome. A simple plugin for those using WordPress sites (like we do) makes creating AMP pages even simpler. The issue is that if you want to create a rich experience on your site, AMP's restrictions and limitations can make delivering that kind of content impossible.
To discuss whether including AMP on your site would be worthwhile, contact TSEG at (512) 394-7234.