The Cloud Plays Billiards
Posted on Monday, July 15th, 2013 at 9:01 am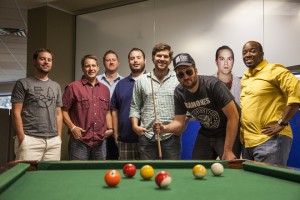 Eight members of the Cloud family walked into Slick Willie's pool hall as a team with heads held high. That particular night, they did not leave in quite the same spirits.
Aaron Dillon, Ngage Operations Manager, had experience in Pool League Play from years previous and decided to collect seven other members from Cloud [8] Sixteen, Inc., to form a pool team for a local Tuesday night league. One week later, our dynamic group entered into 9 and 8 ball competition. With varied levels of pool experience, the rag tag team had a few rough weeks in the beginning, but has been making vast improvements with each passing week.
A string of close losses and meaningful victories in the last couple matches has led them to the opportunity to jump up 2 spots this past Tuesday. While their record may not be the best, in true Cloud fashion, the team has already garnered a reputation for being a social force, forging new friendships with each team they compete against. Everyone is in high spirits and looking to spend the second half of the season fighting for a position in the End of Season Tournament.