From Page Rank to Author Rank: the Changing Landscape of SEO
Posted on Thursday, February 28th, 2013 at 8:29 am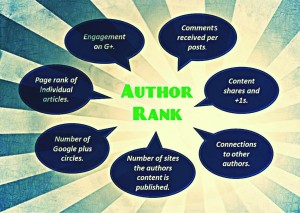 At the annual Search Engine Strategies conference in London last week, Searchmetrics founder Marcus Tober lead a session on "Meaningful SEO Metrics." In the presentation, Tober tackled a variety of topics including the move from page rank to author rank in the future of SEO.
The presentation began with Tober explaining the importance of the "SEO visibility" metric. He said that the cumulative number of all relevant keyword rankings for a market reveal important trends. The ranking on single keywords is worth less, according to Tober, because of personalization, localization, and search history. Analyzing SEO strategies with this broader scope will allow businesses to see trends that are independent from seasonal effects or traffic spikes based on independent events.
One of the most notable moments in the presentation was when Tober directly disputed a statement made by Google Engineer Matt Cutts. When asked if Google +1's affect a website's ranking, Cutts answered "Not really." Cutts claimed there was no "direct effect" on rankings from +1's, but said Google does "have an authorship proposal."
According to Tober, Cutts was not telling the whole truth. Tober excitedly told the audience that +1's do indeed influence search. He explained that several experiments conducted over the last year in Searchmetrics Labs found that Google+ triggers instant indexation. He claimed that based on analysis with different unique postings, "URLs with a +1 are being indexed instantly and rank for the title as well as some longtail queries."
These findings, Tober said, illustrate the move from Page Rank to Author Rank in SEO. He quoted Google's Executive Chairman Eric Schmidt saying "Within search results, information tied to a verified online profiles will be ranked higher than content without such verification, which will result in most users naturally clicking on the top (verified) results." Tober continued to say "the true cost of remaining anonymous, then, might be irrelevance."
Tober concluded the presentation by reminding SEOs to focus on the big picture and not get bogged down studying one metric. He recommended that marketers measure activity and outcomes saying, "understand how the business makes money, build a simple model, and remember that the best metrics guide behavior."
Internally at TSEG we have been watching this closely… since May of 2012 Google+ profiles, circles and +1 (as well as other social media profiles which may factor into the author-rank equation) have become increasingly important to our SEO strategies. Please contact us to schedule a call with a web strategist if you have questions about SEO, author rank and how to prepare your website to "weather the storm" as Google continues to shift from page rank to author-rank.