Google's "I'm Feeling Lucky" button has received a remodeling
Posted on Wednesday, September 5th, 2012 at 2:45 pm
Google has taken its famous "I'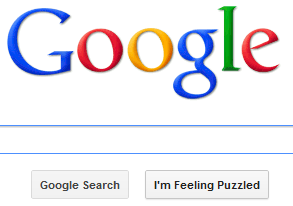 m Feeling Lucky" button, which takes you directly to the top search result, and has turned it into a scrolling advertisement for Google services, projects, and games. With the additions of toolbar search and Google Instant, it has become a rarely used feature. Now, if you go to the Google homepage and hover your mouse over the "I'm Feeling Lucky" button, it spins to different emotions. Don't like the emotion it gives you? Move your mouse away and hover over it again.
The "I'm Feeling Puzzled" button brings you to a Google trivia search game called "a Google a day". "I'm Feeling Trendy" brings you to Google's "hot searches" page. "I'm Feeling Wonderful" brings you to the World Wonders Project, which allows you to view wonders of the world from Google Street View. "I'm Feeling Hungry" brings you to a search of your local restaurants. There's more but I don't want to ruin the surprise.
The old feature hasn't officially disappeared, though. When you start typing your inquiry on Google Instant, the autocomplete suggestions drop down below the search bar. If you place your mouse over one of the suggestions, an "I'm Feeling Lucky" link will appear to the right. Clicking it will work just as the old one did.
Forgotten, but not gone.