What is the Importance of Online Directories?
Posted on Thursday, August 15th, 2019 at 8:00 am
When building out the marketing strategy for your law firm or small business, you might ask yourself if it's worth taking the time to build out business citations and add firm to niche, relevant directories. Directory and listings management is tedious, time consuming, and can cost money. However, these listings are extremely important to maintain and build in order to get your site to rank in search engines and ultimately drive leads.
What Are Online Directories?
When we talk about online directories and listings, we're talking about the many local listing websites that you might or might not be familiar with. These online directories display your business information, logo and (most of the time) link to your websites. Every online directory is different, but this is all that is normally included in a typical local listing: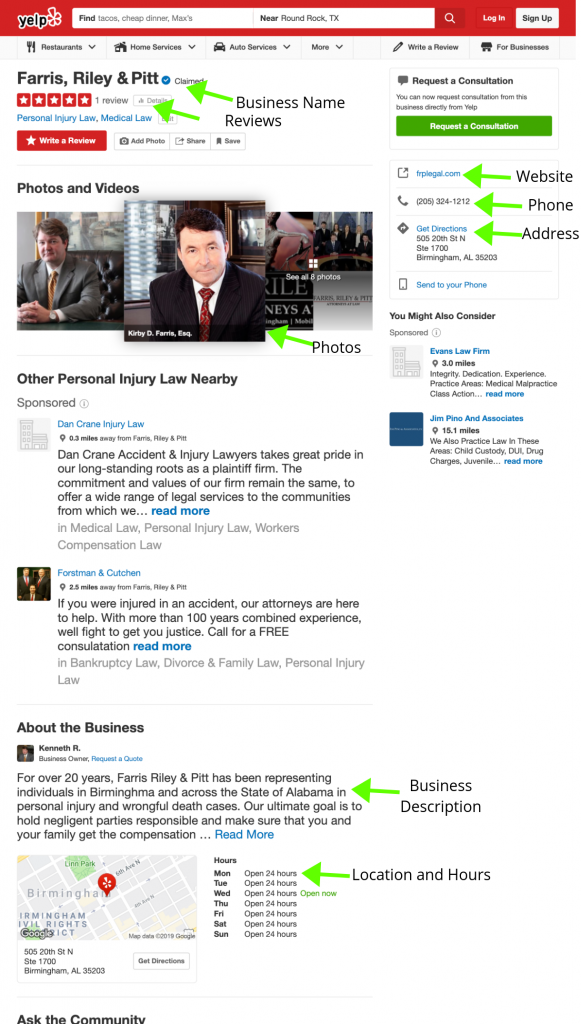 There are two types of listings we are interested in: Local Citations and Niche Directories.
Local Citations for SEO
You probably know the names of the big local citation sites. (Yelp, YellowPages, MapQuest, Foursquare, Bing For Business, Google My Business etc.) But you are probably not familiar with the hundreds of other local business directories on the internet. (Yalwa, USCity.net, Soleo etc.) Why would you want to be on a bunch of directories that most people have never heard of? I will discuss in depth later, but in short, the more your consistent business information is listed on the web, the more trustworthy you look to the major search engines. More trust = higher rankings.
Niche Directories for SEO
Adding your small business to directory sites that are only for businesses in your niche is also incredibly important. This is because links from these sites increases your site's relevancy. More on relevancy later. 
Every niche has its own directories. For example, Avvo, Lawyers.com, and Findlaw are some of the major directories that an attorney should be on. Angie's List and Houzz are directories that a home improvement company or contractor would want to be listed on. Just like general local citations, there are hundreds of smaller niche citation websites that you can be added to.
Why Should I Sign Up For Online Directories?
A lot of businesses and business owners who have created listings in the past are all probably skeptical of them for one reason, they don't bring in a ton of referral business. Some bring in more than others, but in large part, you are not going to be getting dozens of leads each month from these directories. So if they aren't directly bringing in business, why should I take the time to get listed everywhere? At TSEG, we build out local business profiles to do the following:
Links/Authority Building
Most of these directories send links to your website and they, for the most part, are very authoritative sites. Directories and local listings are an easy way to build up a business's backlink profile, especially for a small business that has little to no online presence. Even though search engines don't value these links as highly as those from a news website or authoritative blog, your backlink profile needs to be diverse, and these links do just that.
Niche Directories go a step further because they are not only adding authority to your site but they are also adding in relevancy. For an attorney site, a link from Lawyers.com is much more valuable than a link from a home improvement site because it is more relevant. Google and the other search engines look at the types of sites that are linking to you in order to decide how to rank you.
Majestic has an online tool where you can check the category of your incoming links. (Majestic is a paid online SEO tool, but there is a free trial if you want to try out on your site.) This is an example of the backlink profile for one of our attorney websites: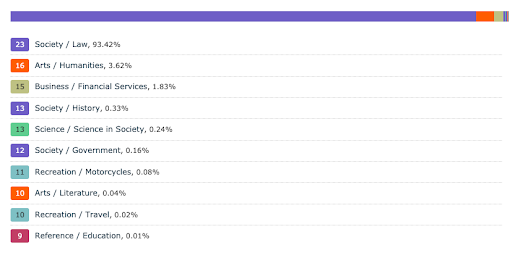 Over 93% of his incoming links are "Law" related. This is an impressive relevance percentage and should cause no confusion for Google as to what kind of keywords they should be showing for. Having a variety of other types of sites linking to you is good and natural, however, the majority of your links should be relevant to your niche.
Link building is one of the most difficult tasks when it comes to SEO, but directory links are very straightforward to build and you can do it in bulk if you have the correct online listing management tool.
Consistent Business Information
Having a consistent business profile across the internet is very important for local Google Maps rankings. If you are struggling to get into the maps, but your site is ranking highly otherwise, you might want to audit your business information for consistency across all of your listings. If you would like to check your business information, we invite you to use our free tool.
Having a consistent online business profile sends good, what we call, "local signals" to Google. This means Google is confident that you are where you say you are. Google and other search engines will avoid ranking your listing in the highest map placements if they aren't sure you are actually located there.
Having control of these online listings additionally gives you the preparation needed in case any of your business information changes. If your business changes it's closing time, you want that to be reflected across the web. A customer showing up to your place of business after it has closed can hurt your reputation.
Referral Leads
Earlier, we discussed that many business owners have not put much effort into expensive online directories because a lot of them don't drive leads. However, the top niche directories and local listing sites can generate leads for your business.
If you are wondering which directories you should join to generate more leads, simply search your keyword into a search engine.
For example: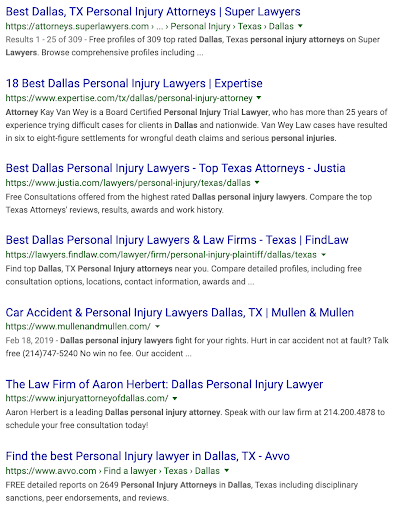 For the search "Dallas personal injury lawyer", four of the top seven organic results are attorney directories (Super Lawyers, Justia, FindLaw and Avvo) and another one is a general directory for businesses (Expertise). If you are wanting your business to "cut" the line and be visible on the first page, then you should probably add yourself to these directories.
Now, to be listed at the top of those individual directories is a different story. Most of those sites make you pay for a "premium placement" or "top spot." Prices vary, but this is not cheap. In my mind this falls more in the category of paid search, not SEO, since the results are not permanent.
Regardless, being on these directories increases your visibility, especially if you are a business that is having trouble showing up in the Search Engine Results.
This is the smallest benefit of these directories for SEO, however, it does not make it insignificant.
How Do I Build Out Online Directories? 
The first step to building out directories is figuring out which directories you are already on. The tool linked above can help with that.
Then it's just about finding all of the sites you want to be added to and manually adding yourself. There are also citation services where you can get listed in many places at once. 
The easiest approach to setting up directories, though, is to have your digital marketing team help you out. They likely already have a list of sites they can add you to, as well as the tools needed to manage all of these listings.
How Much Do Online Listings and Directories Cost?
Many local listings are free. Yelp, YP.com, and Google My Business are all free. The directories that cost money are most likely going to be your premium niche directories. The costs vary for all of them and many require you to be in contact with a rep that can get you a quote. Some directories will charge you monthly and others require you to pay the year upfront. This is an important factor to keep in mind when setting up directories and budgeting.
Should I Set Up Listings For All Of My Business Locations?
The short answer is yes. Every location you want to appear map rankings should be added to every directory you can. For the paid directories, this will most likely be an extra cost, but it depends on the site. 
If you are not worried about local SEO, then you may not want to set up profiles for your extra locations on the paid directories. There is a law of diminishing returns for links from the same domain. The extra links from a site are probably not worth the cost if you are not worried about local rankings. 
Which Paid Directories Should I Use?
First, you want to decide on a yearly budget for directories. Every company is different. A good rule is you should be spending at least as much as your competitors are. Once you have a budget, you need to prioritize the directories. A number of factors can go into this, including:
The authority of the site – Ultimately, you want to be on the sites that have the most authority in Google's eyes. You can check a site's authority using a number of online tools, including Ahrefs and Moz.

How many links you get from a site – Some websites and directories send more links than others. Another factor to keep in mind is if the links are follow or no-follow.

Here

is a resource discussing the difference, but the summary is, you want follow links. You can use Ahrefs and Moz to check this as well.

The cost – You are going to have to weigh the cost of the directory vs. how much authority the link has. This is the most difficult factor.
Your digital marketing team should be able to audit the value of each directory that you use and recommend which directories you should leverage with your budget.
How TSEG Can Help
TSEG can help you with your listings management needs, including:
Setting up local listings

Setting up paid niche directories

Audit your current listings to make sure all business information is correct and find which sites you are listed on

Recommend directories that fit your business

On-going management of business information
This is just part of how TSEG can help your small business. To learn more about our SEO and Web design services, contact our team.