Sign More Leads with TSEG
The 3M Company, a multinational conglomerated based in Minneapolis, Minnesota, and its subsidiary, Aearo Technologies, have faced thousands of lawsuits for their dual-ended Combat Arms Earplugs. In the lawsuits, active-duty soldiers and veterans have accused 3M of knowingly committing fraud against the military, failing to warn soldiers of the earplugs' defects, and falsifying earplug test results, among other allegations.
In 2016, Moldex-Metric Inc., a company that manufactures hearing protection products, filed a lawsuit against 3M, claiming the company committed fraud by knowingly selling defective earplugs to the U.S. military. The lawsuit stated that "protracted fraud perpetrated on the military by 3M, whose dual-ended Combat Arms earplugs…have likely caused thousands of soldiers to suffer significant hearing loss and tinnitus." 3M admitted no wrongdoing but agreed to pay a $9.1 million settlement in July 2018.
3M and Aearo claimed the dual-ended design would allow soldiers to insert the olive side to protect against all sound. From 2003 to 2015, thousands of soldiers in war zones, such as Iraq and Afghanistan, used the Combat Arms Earplugs. Some of the long-term damage reported includes tinnitus (ringing in the ears), permanent hearing loss and damage, and issues with balance.
Combat Arms Earplugs were intended to block loud noises and the sounds of explosions while allowing soldiers to communicate with each other. The earplugs were purportedly too short to be able to adequately fit the ear. Over time, the device could become too loose to protect against hearing damage. Many service members contend the manufacturer led the government and soldiers to believe their hearing was protected from most potential damage during training or service when it wasn't.
Hearing loss is unfortunately common among those who have served in the military. An estimated 50% of veterans return with some level of hearing loss, according to the U.S. Veterans Administration. As of 2017, over 2.7 million veterans were receiving disability benefits for hearing loss.
Now Is the Time to Acquire 3M Earplug Cases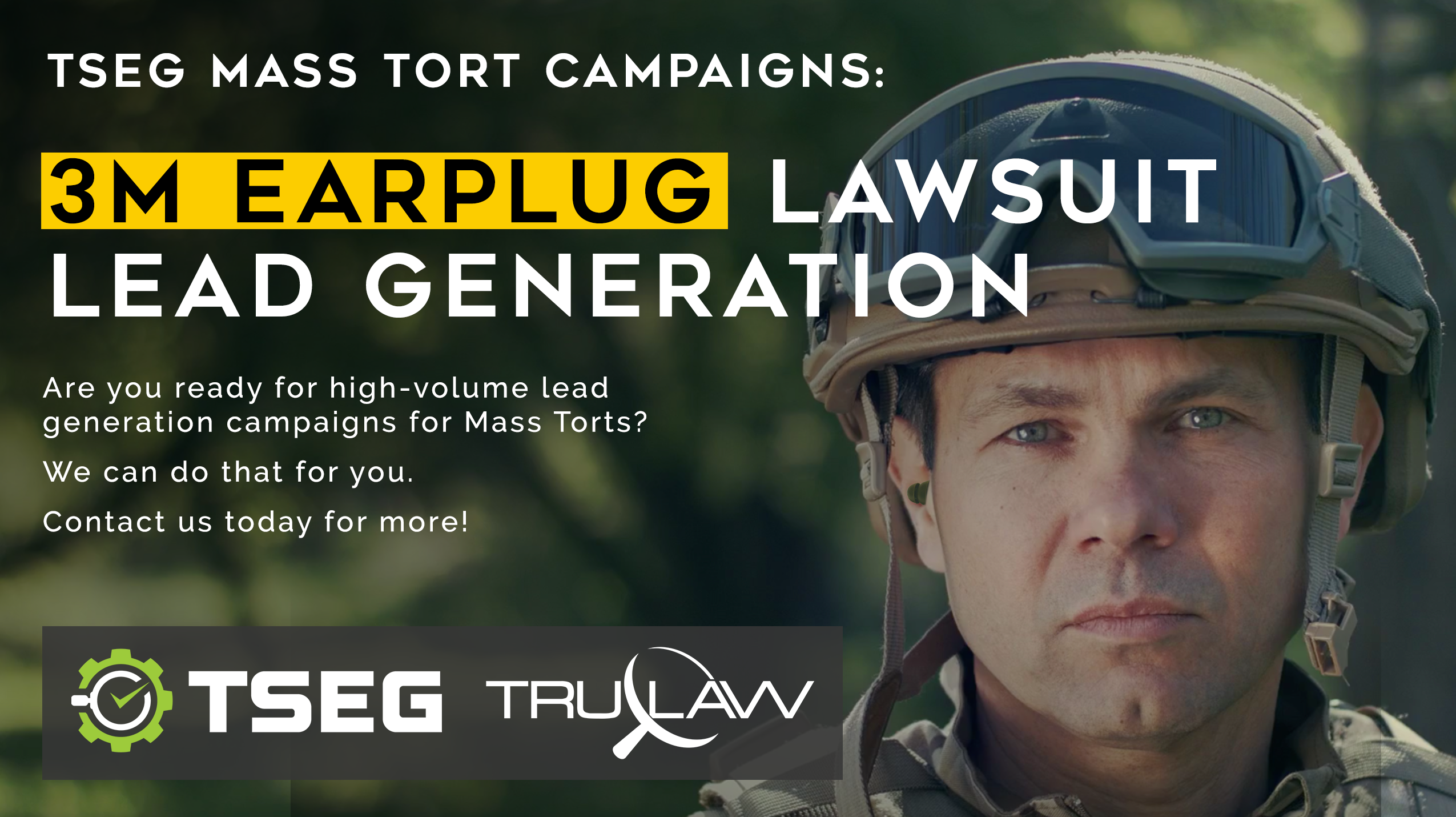 Lowest costs in 2020. Current case costs are the lowest we've seen.
Reach a larger audience. Stay-at-home conditions from COVID-19 mean more people are watching TV and engaging with digital content at home throughout the day. Now is an opportune time to reach your target audience.
Costs to acquire cases have declined. The increased viewership, in addition to reduced rates, bonus airings, and discounts, has led to lower costs to acquire cases.
How TSEG Can Help
At TSEG, we manage lead-generation digital advertising campaigns to help your law firm on a wide array of platforms, including Google, Facebook, and Hulu. We will help you deliver your message about 3M earplug lawsuits to the potential clients and measure the return-data. The data that comes back from the ads is useful even if it does not convert to a lead. After we analyze the data, we will discover which copy, creative, and platform works best for your unique firm and message. We lever your advertising dollars in the most effective way possible, helping you to secure as many leads as you can. Our data-driven approach helps us deliver ½ to ⅓ the lead generation costs of our competitors.
In 2020, people are accustomed to the abundance of information on the internet, and they do plenty of research when deciding which firm to hire. Potential clients are no longer limited to the information that firms choose to advertise. Search engines are the tools used to seek out this information. Your firm's search rankings will allow users to access key information like your location and customer reviews. A strong organic presence in search engines dramatically increases the chances people will pick your firm to take their 3M earplug case.
TSEG can also help you launch PPC, or Pay-Per-Click, campaigns. PPC helps you secure high placements on Google's results page. PPC placements are at the top of the results page, above the maps and organic results. TSEG can help you optimize your PPC campaign so that you lower your costs while also reaching plenty of users.
Contact TSEG
Since our founding in 2007, TSEG, a division of Cloud[8]Sixteen, Inc., has experienced tremendous growth, now managing over 250 websites for over 100 legal, medical, and small- to mid-size business clients. We've been able to adapt to the many changes in SEO and continue to rank clients in dominant positions on major search engines. TSEG can work with you to bring their attention to your firm.  We'll help you sign your mass tort leads. Contact us online or call (512) 394-7234 today.