Generate New Leads for Hernia Mesh Mass Tort Cases
Patients suffering from hernias can find relief from hernia mesh. Hernia mesh is an implant that's surgically placed where there's damage or torn tissue to provide support and prevent recurrence of a hernia. The doctor uses medical glue, stitches, or staples to attach the mesh and keep it securely in place.
Unfortunately, however, complications have been discovered that cause debilitating medical problems and ongoing pain. Over 200,000 units of hernia mesh were recalled since 2005 by the U.S. Food and Drug Administration (FDA) and manufacturers, including:
Ethicon: Physiomesh Flexible Composite Mesh
Bard and Davol: Composix Kugel Mesh
Sofradim Production: Versatex Monofilament Mesh
Ethicon: Proceed Surgical Mesh
Atrium Medical Corporation: ProLife Mesh
Atrium Medical Corporation: C-QUR V-Pack Mesh
The hernia mesh market is a growing industry, and Grand View Research estimates that the global hernia mesh devices market was valued at 4.04 billion in 2017. Some hernia mesh products, however, were seemingly rolled out too fast, as patients have suffered complications and serious side effects as a result of their hernia mesh procedure.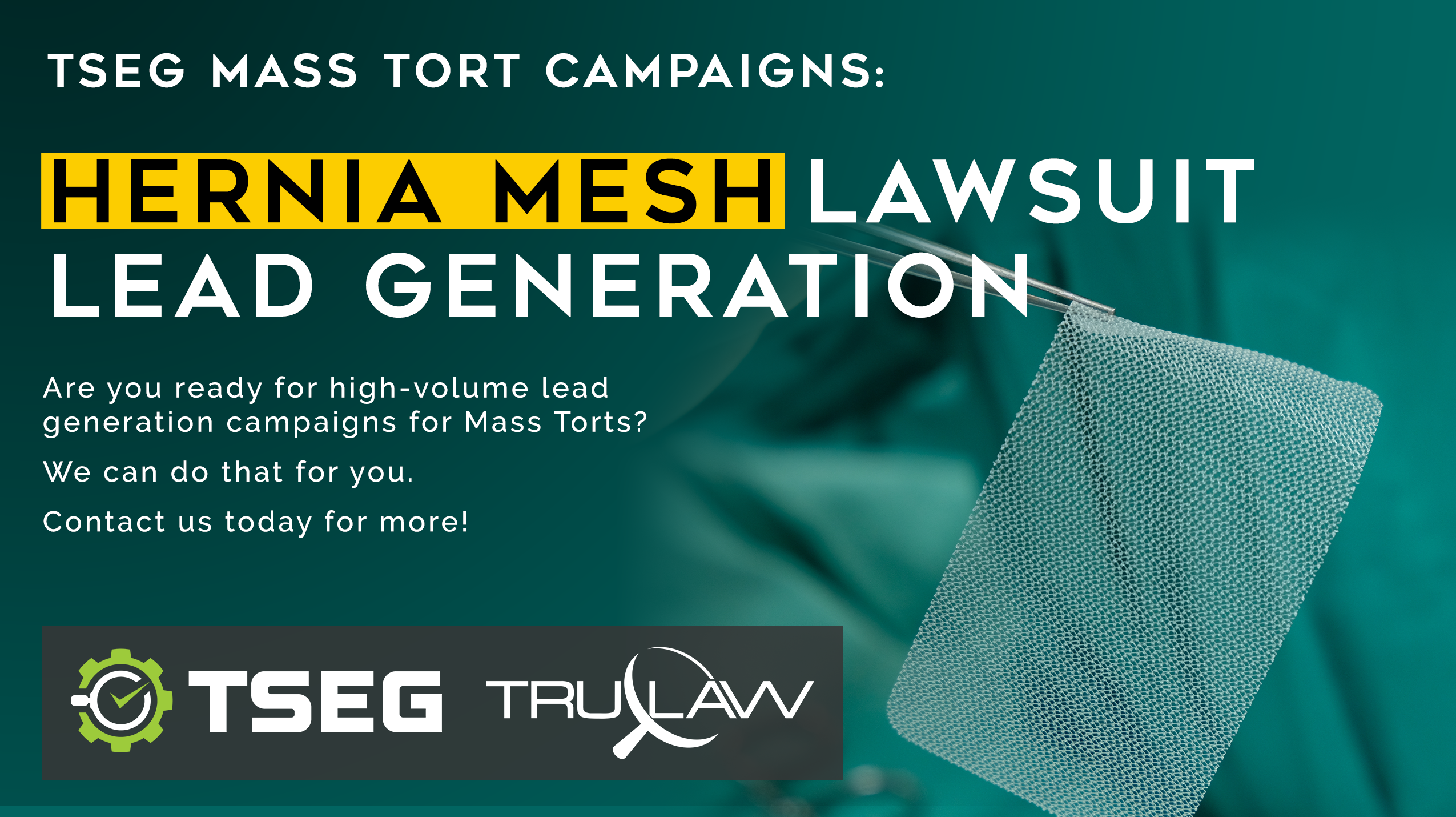 START YOUR HERNIA MESH MASS TORT CAMPAIGN NOW
Side Effects Associated With Hernia Mesh
Manufacturers are supposed to ensure the safety of their products. If they discover adverse side effects, they must use adequate warning labels, so consumers know the potential risks. Unfortunately, many recalls occurred after patients experienced unusual symptoms they didn't know could occur. Common medical problems include:
Severe and chronic pain
Bowel obstructions
Infections
Mesh migration throughout body
Hernia recurrence
Organ perforation
Organ adhesions
Fistulae
Increased risk of needing revision surgery
According to the countless lawsuits filed, manufacturers and other parties associated with the dangerous product are being held liable for:
Unreasonably dangerous product despite being used as intended
Failure to warn doctors and patients about the potential risks
Stating that the hernia mesh is effective and safe
False claims that the product is the only treatment that could correct hernias
Find New Mass Tort Clients With Hernia Mesh Advertising Campaigns
TSEG knows that an effective mass tort campaign can optimize your law firm's online presence and increase the number of clients you sign. When you meet with us, we'll review your current marketing strategies and analyze data to determine which platforms will work best for your legal services and specific messaging.
We'll continue to analyze data throughout the entirety of your campaign so that we're always leveraging the most effective content and platforms, whether it's a combination of Google, Facebook, Hulu, or many others, so individuals affected by hernia mesh complications see and engage with your ads. As a result of our diligent fine-tuning, you'll pay less as you target the specific claimants you need.
With our tools and experience, we know how to ensure our clients' websites end up at the top of organic search result pages, and we'll also help you launch or hone your Pay-Per-Click campaign so that you pay less for top-of-page results.
Now is the time to reach more claimants for your hernia mesh campaign. Because of COVID-19, more people are interacting with digital content and watching media than ever before. Our team can develop a strategy that turns all of those potential leads into actual clients that contribute to the growth of your business.
Call TSEG Today
Mass tort cases can be beneficial to any law firm. You have to know the right message to use to reach the demographic you're targeting in your area. Law firms throughout the country are filing mass tort lawsuits against hernia mesh manufacturers. They're attempting to recover financial compensation for the harm their clients suffered. With our lead generation strategies, we'll place effective ads and use the advertising platforms necessary to let hernia mesh victims know you're the firm they can trust.
If you want a free estimate for your mass torn campaign, call TSEG today at (512) 394-7234. We're happy to discuss your marketing goals and create the right plan to get signed clients for hernia mesh lawsuits.