Digital Campaigns for Elmiron Mass Tort Cases
Throughout the country, law firms are pursuing mass tort cases against the manufacturer of Elmiron for the harm they caused. TSEG can create an effective campaign that brings qualified claimants to your doorstep. When we meet with you, we'll discuss your needs and determine the best strategy for lead generation.
Advertising your services online is essential, but it's a waste of time and money if you're not successfully reaching your target audience. We'll ensure you're leveraging the platforms that are optimal for your demographics and your campaign, and we'll craft, test, and deploy messaging that garners awareness of your firm and lets viewers know you're a firm they can trust. We always analyze the digital advertising data carefully to ensure we spend advertising dollars in the most effective way possible.
We'll improve your organic presence, so you show up at the top of search engine results, and we'll also spearhead your Pay-Per-Click campaigns to help you achieve high placements on Google's pages. We understand how critical generating leads and signing new clients is to the success of your firm. You can depend on us to help you reach a larger audience with an Elmiron mass tort campaign.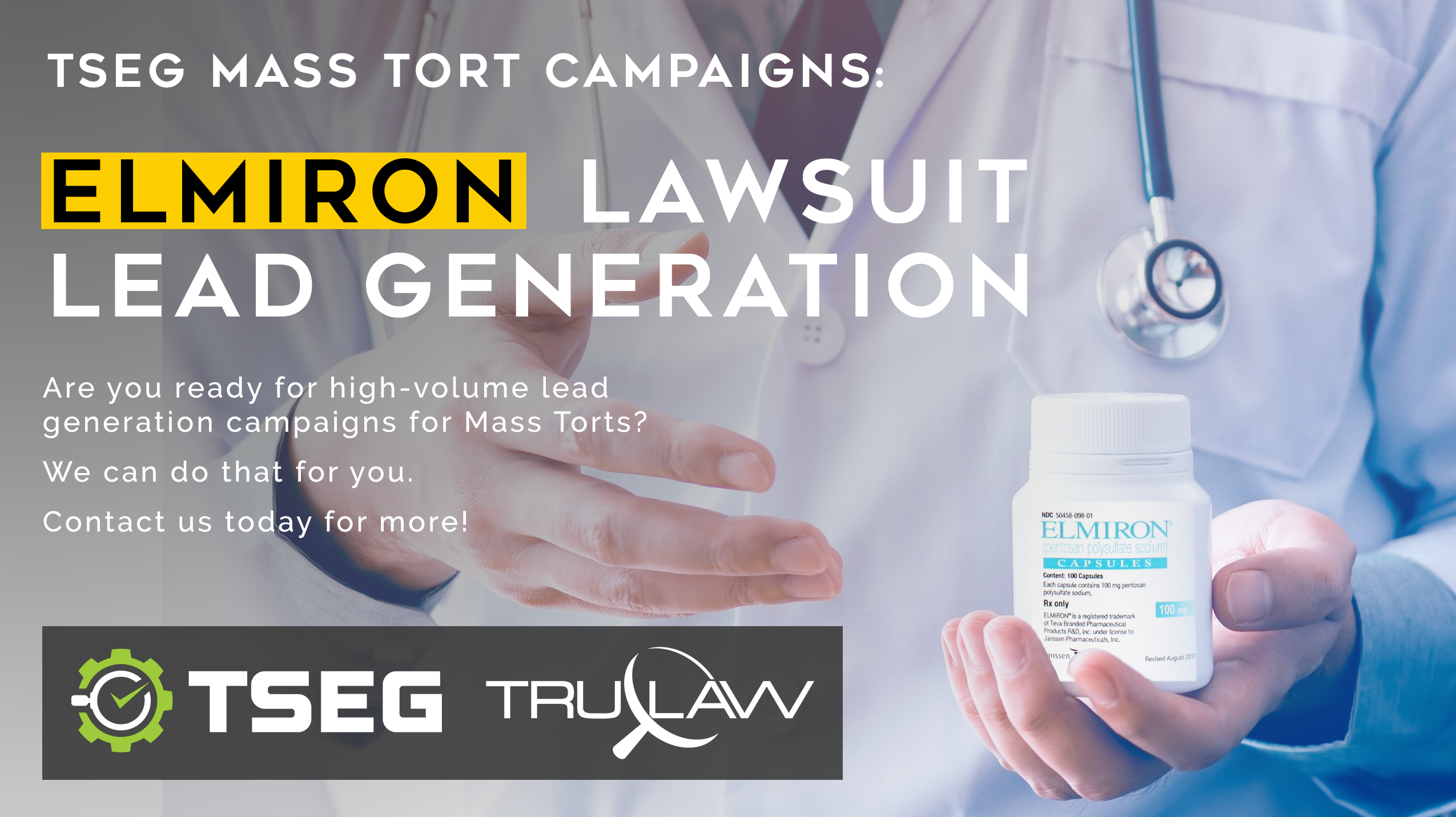 START YOUR ELMIRON MASS TORT CAMPAIGN NOW
Bring Claimants to Your Doorstep With TSEG Legal Marketing Campaign
Janssen Pharmaceuticals manufactured pentosan polysulfate sodium, known by its brand name Elmiron, to treat interstitial cystitis, which causes frequent urination and pelvic pain. The drug company has been manufacturing and distributing it since the U.S. Food and Drug Administration (FDA) approved it in 1996.
Unfortunately, the long-term use of Elmiron has also been associated with the development of maculopathy, an eye disorder affecting a sensitive area in the center of the retina called the macula, which is responsible for our central vision and color vision. Maculopathy is a common cause of blindness.
Some of the early ocular symptoms associated with Elmiron include:
Problems seeing objects clearly up close
Difficulty reading
Trouble adjusting to dim light
Loss of central vision
Dimming of vision
Thousands of patients who have used Elmiron to treat their interstitial cystitis have filed a lawsuit against the manufacturer Janssen Pharmaceuticals for failing to warn consumers about the risk of retinal damage and possible permanent vision loss.
Dangerous Side Effects of Elmiron
Interstitial cystitis develops from a urinary bladder infection. It causes frequent urination and pelvic pain. It can also interfere with communication signals between the brain and bladder that regulate the urge to urinate. Elmiron doesn't cure the bladder condition but acts as an anticoagulant and restores damage that occurs on the bladder's surface. Additionally, it helps to alleviate pain.
Janssen Pharmaceuticals lists the following side effects on Elmiron warning labels:
Headaches
Hair loss
Dizziness
Rash
Diarrhea
Abdominal pain
Upset stomach
Nausea
Abnormal liver function tests
However, during initial clinical trials, researchers discovered an unusual side effect when the drug first came out. Many patients suffered from macular degeneration, vision loss, and other conditions associated with the eyes. Despite these findings, the FDA approved it for distribution.
In 2018, the same medical researchers who initially discovered the drug's adverse risks also noticed the development of a disease known as maculopathy. They observed six different people over 15 years to study the effects of Elmiron. They reported some macula changes and injuries to cell layers that nourish the retina, known as the retinal pigment epithelium.
Further findings in 2019 raised awareness about the potential harm the popular bladder medication could cause. Three scientific studies also linked Elmiron to the degeneration of the macula. Over time, patients started experiencing central vision loss, which hinders the ability to see something clearly. Despite the scientific evidence, the FDA hasn't issued a recall. Instead, they provided a new warning label that lists the potential pigmentary retina changes associated with the drug.
Contact TSEG
To find out more about the services we offer, contact us today at (512) 394-7234. We'll provide a free estimate for your mass tort campaign. Our team at TSEG is ready to discuss your needs and develop a cost-effective plan that increases the number of mass tort clients for Elmiron lawsuits.