Justice for Camp Lejeune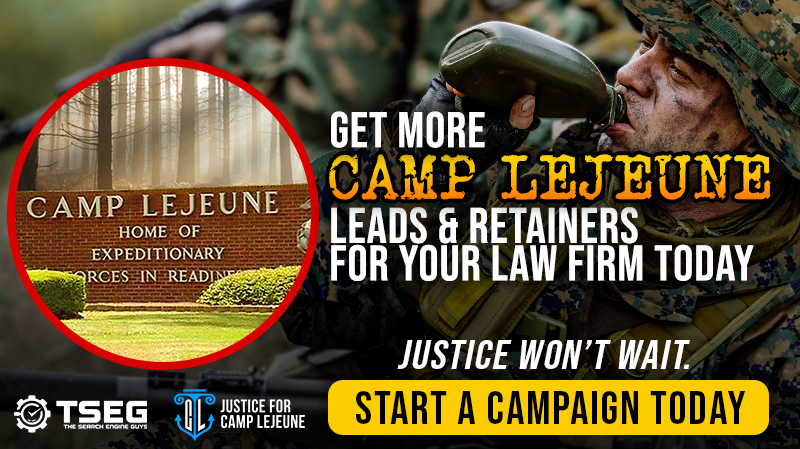 Start a mass tort campaign to help our country's Marine veterans, their families and the staff who lived at the Marine Base, Camp Lejeune, in North Carolina from 1953-1987. These people are a part of the country's largest water contamination case in history. Over 1 million people were exposed (for more than 30 days) to the contaminated water that was used for drinking, cooking and bathing. Affected persons are now suffering from severe illnesses, including cancer, that have been linked to the chemicals found in the water. Furthermore, the toxic chemicals from the contamination have been linked to birth defects in children born and raised in Camp Lejeune. Now, 30 years after the contamination, these children from Camp Lejeune are dealing with health issues as a result.
The lawsuit is seeking financial compensation from the U.S. Government for these victims. Investigations uncovered evidence that the U.S. Government knew about the high toxic levels in the water and negligently ignored reports from scientists, allowing the toxic exposure to stretch over 30 years. Your firm's campaign with TSEG will direct targeted users to a landing page where they can take a short quiz to check if they qualify for a lawsuit. Your firm will then be able to contact those who qualify and begin assisting them in pursuing compensation.
Competitive costs in 2022. We've seen cases at 50% of the industry benchmark.
Reach a larger audience. Stay-at-home conditions lingering from COVID-19 mean people are still watching more TV and engaging with digital content at home throughout the day. Now is an opportune time to reach your target audience.
How TSEG Can Help
At TSEG, we manage lead-generation digital advertising campaigns to help your law firm on a wide array of platforms, including social media and CTV/OTT. We will help you deliver your message about Camp Lejeune lawsuits to the potential clients and measure the return-data. The data that comes back from the ads is useful even if it does not convert to a lead. After we analyze the data, we will discover which copy, creative, and platform works best for your unique firm and message. We lever your advertising dollars in the most effective way possible, helping you to secure as many leads as you can. Our data-driven approach helps us deliver ½ to ⅓ the lead generation costs of our competitors.
Nowadays, people are accustomed to the abundance of information on the internet, and they do plenty of research when deciding which firm to hire. Potential clients are no longer limited to the information that firms choose to advertise. Search engines are the tools used to seek out this information. Your firm's search rankings will allow users to access key information like your location and customer reviews. A strong organic presence in search engines dramatically increases the chances people will pick your firm to take their Camp Lejeune case.
TSEG can also help you launch PPC, or Pay-Per-Click, campaigns. PPC helps you secure high placements on Google's results page. PPC placements are at the top of the results page, above the maps and organic results. TSEG can help you optimize your PPC campaign so that you lower your costs while also reaching plenty of users.
Contact TSEG
Since our founding in 2007, TSEG, a division of Cloud[8]Sixteen, Inc., has experienced tremendous growth, now managing hundreds of websites for legal, medical, and small- to mid-size business clients. We've been able to adapt to the many changes in SEO and continue to rank clients in dominant positions on major search engines. TSEG can work with you to bring their attention to your firm.  We'll help you sign your mass tort leads. Contact us online or call (512) 394-7234 today.