Belviq Mass Tort Campaign for Turning Leads Into Clients
Belviq (lorcaserin) is a popular weight-loss drug manufactured by Eisai Inc. It's been used by obese patients and other individuals having difficulties with losing weight and curbing hunger. A double-blind study of 12,000 people over a five-year period uncovered an increased risk of developing cancer. That prompted the U.S. Food and Drug Administration to recommend that the pharmaceutical company withdraw all Belviq and Belviz XR (lorcaserin) from the market.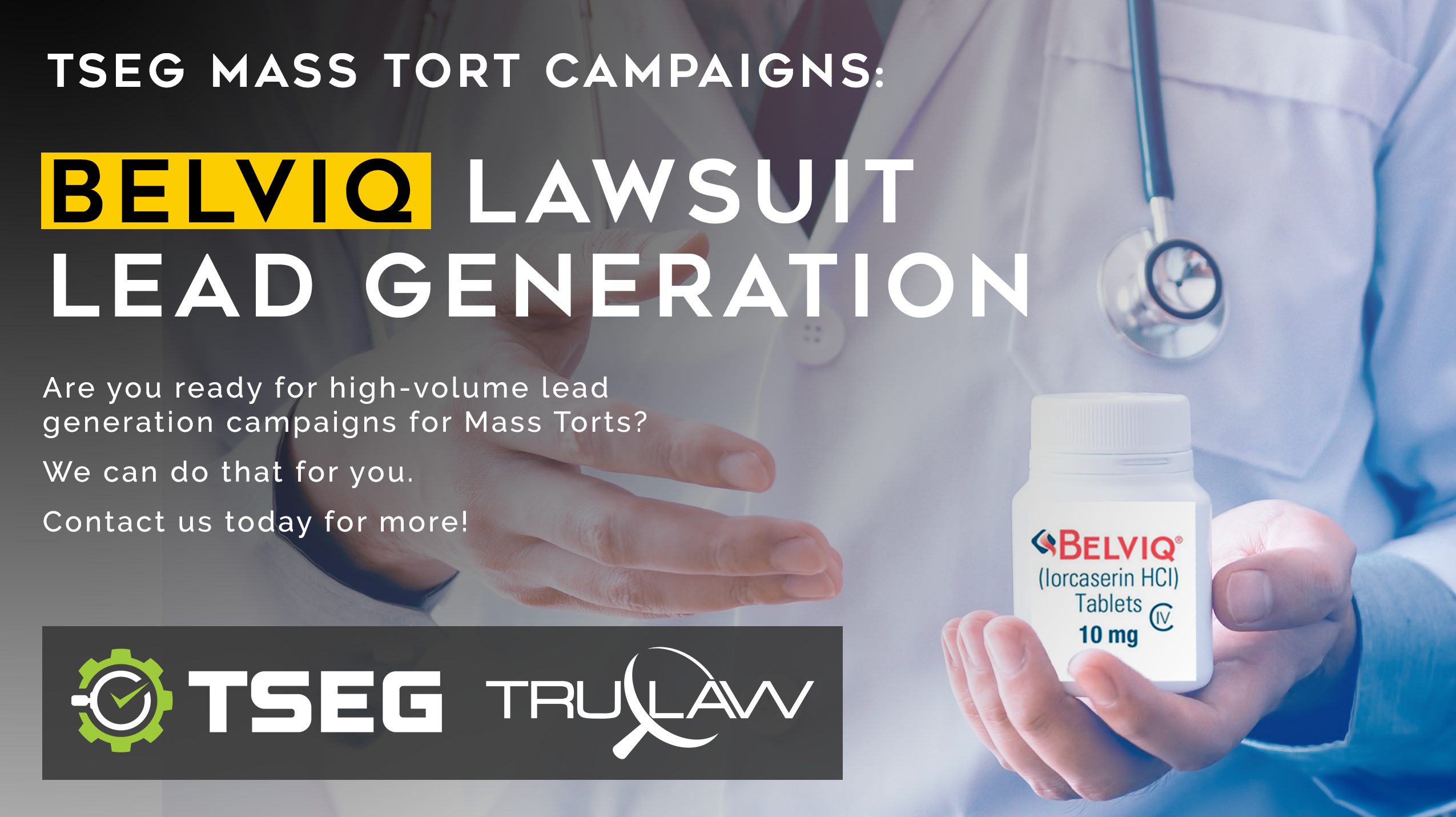 TSEG can get your website in front of those affected by the dangerous complications caused by Belviq. We will review your current marketing plan and develop an effective strategy to generate leads and turn them into signed clients. Victims suffering from the harmful effects of a drug they thought they could trust deserve an attorney they can depend on. The mass tort campaigns we run can reach your target audience and let them know that you're the type of law firm that can help them.
To learn more about us or get a free estimate for your new Belviq campaign, call TSEG today at (512) 394-7234.
What Is Belviq?
Many people use lorcaserin in conjunction with behavior changes, exercise, and a lower calorie diet to lose weight. Individuals with weight-related medical issues and those that are obese are the best targets for this drug. Lorcaserin (the generic name for Belviq) is a serotonin receptor agonist that targets the part of the brain responsible for a person's appetite. It affects specific brain chemicals to influence appetite so that weight loss occurs.
Possible Link Between Belviq and Cancer
When the FDA first approved Belviq for use in weight loss patients in 2012, they required the manufacturer to perform a study to learn about any adverse reactions. They wanted a more thorough understanding of the potential risks people could face when taking the drug over an extended period.
Eisai Inc. conducted a five-year study, after which the FDA thoroughly reviewed the results and analyzed the data. They found an increased risk for certain cancers in the group of individuals given the actual drug. Many pharmaceuticals used for weight loss can lead to heart problems, and the primary reason for this research was to discover potential cardiovascular issues.
Although the FDA hasn't definitively proven that there's a link between Belviq and a higher risk of cancer, they requested that the drug company remove it from the market.
Common Side Effects of Belviq
Belviq and Belviq XR can cause various side effects ranging from mild to severe. The most common include:
Constipation
Dizziness
Cough
Fatigue
Dry mouth
Back pain
Headache
Blurry vision
Anxiety
Trouble falling asleep and staying asleep
Toothache
More serious side effects associated with this drug are:
Fever
Confusion
Diarrhea
Enlarged breasts in males
Hallucinations
Vomiting and nausea
Swollen feet, arms, or legs
Thoughts of hurting oneself
Breathing difficulties
Dissociation
Attention problems
Twitching muscles or spasms
Unfortunately, some complications can have life-threatening consequences if patients don't seek medical treatment.
Recalled Belviq and Belviq XR
Manufacturer Eisai Inc. issued a voluntary recall of Belviq and Belviq XR in February 2020 after the FDA's recommendations. Results of their study using the drug and placebo showed that 7.7% of patients using lorcaserin developed some form of cancer compared to 7.1% in the placebo group. These findings were enough for the FDA to determine that the risks far outweighed the benefits of taking this drug.
The types of cancer associated with taking Belviq and Belviq XR include:
Lung cancer
Pancreatic cancer
Colon cancer
Victims throughout the United States are suing the manufacturing company for the health problems they are now facing after taking the weight loss drug. Product liability is an area of law that holds companies liable when their products injure or kill users. TSEG can determine the right platforms to use that can get your firm noticed by Belviq victims and their families who wish to file lawsuits for compensation of their losses.
TSEG Knows How To Manage A Successful Ad Campaign
When you hire our team, we will review your ads and marketing plan to determine what's working and what needs improvement. We analyze data and perform thorough research to learn about user behavior online. The data we find can tell us the keywords people are searching for and how to optimize your website so that your target audience sees it. They can discover who you are and the services you provide. We want to ensure they choose you over your competition.
We begin with one, two, or a combination of different digital platforms, such as Google Ads, Facebook, and YouTube. Ad placement is vital when you're trying to garner interest from prospective clients. It's not just about advertising your firm. It's also about knowing when and where to run these ads so the clients you want to sign will see them.
You likely have a budget, and we will make sure we stick to it. You don't have to spend a lot of money to effectively and efficiently grow your business. The team at TSEG has experience crafting high-quality marketing campaigns that won't put your firm in financial jeopardy. We know the ultimate goal is to get paying clients that increase your ROI. It's possible to do that without breaking the bank.
Contact Us
TSEG works with established law firms and those that are just getting started. We can build your website from scratch or improve on your current website. When people come across your page, it's critical that we draw them in with engaging content. We know what makes people choose to click on someone's link or overlook it.
We can create a landing page to direct users to your firm and get them to complete a simple form to determine their eligibility for a Belviq lawsuit. They will know in an instant whether you can represent them in their case. Accessibility and user-friendly content can mean the difference between an interested client and lost revenue.
Schedule your free estimate for a comprehensive mass tort campaign for Belviq victims by calling TSEG at (512) 394-7234 right now.