Generate New Leads for Your Boy Scout Abuse Mass Tort Case
The Boy Scouts of America (BSA) is facing mass tort lawsuits for the decades of sexual abuse countless children had to face. If you're looking for new clients for this type of case, TSEG can help you create an advertising strategy and determine which platforms you should be using.
Since 2007, we've helped law firms like yours secure higher search rankings and draw a larger, targeted audience to your website. We not only use effective digital marketing tools to generate leads and turn them into actual signed clients, but we also stick to your budget. We consistently analyze data to ensure we're deploying advertising tactics that work – we know it's important to deploy cost-effective, successful mass tort campaigns. Whether we're running ads on Facebook, Google Ads, or multiple platforms, we know you'll benefit from the results.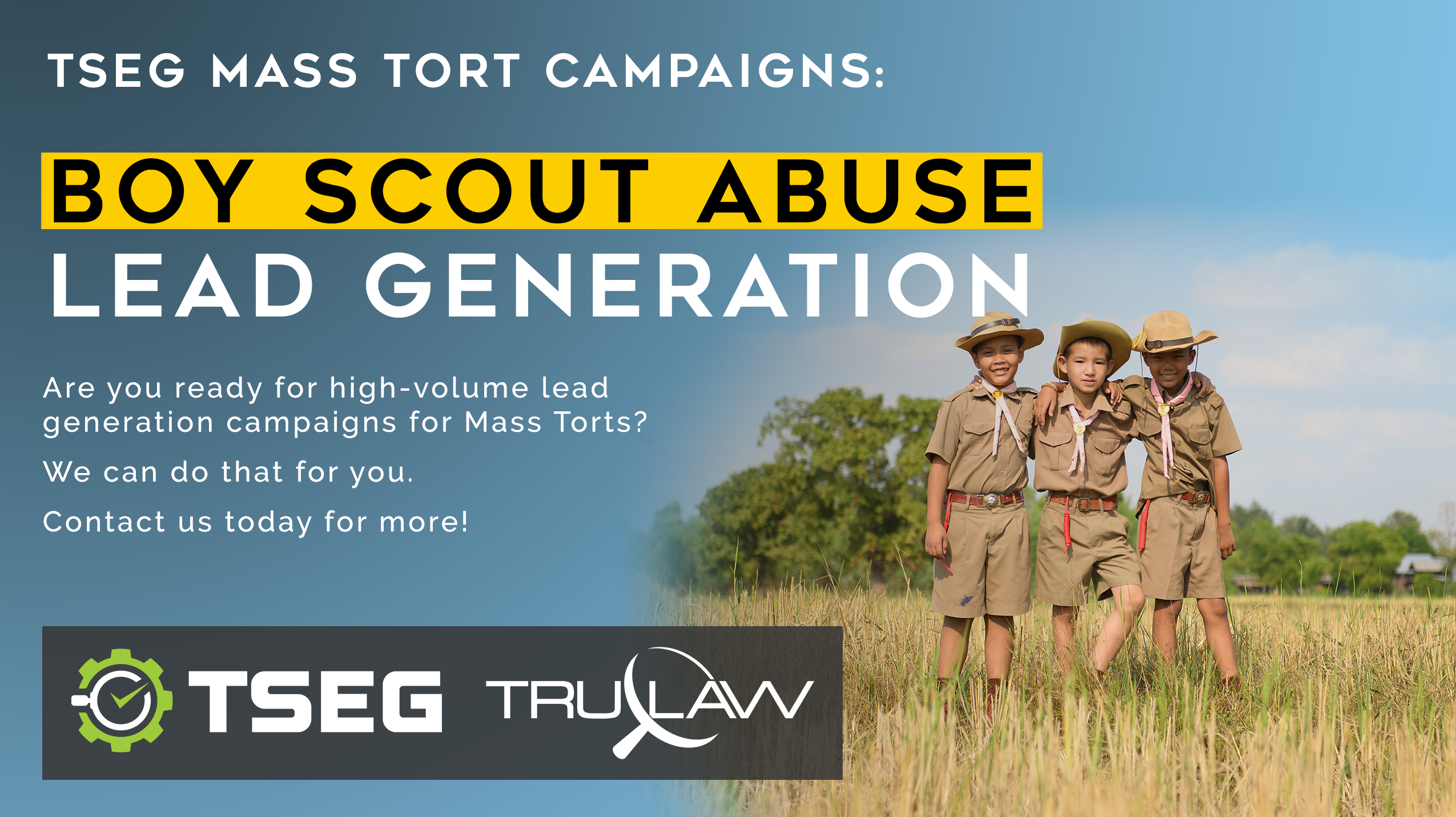 START YOUR BOY SCOUT ABUSE MASS TORT CAMPAIGN NOW
BSA Files Bankruptcy After Onslaught of Lawsuits
The Boy Scouts of America disclosed that, between 2017 and 2019,  they paid over $150 million on legal fees and settlements for abuse victims. Facing hundreds of additional lawsuits, they decided to file for Chapter 11 bankruptcy in February 2020. They stated that it was the only way they could continue to pay plaintiffs.
Unfortunately, sexual abuse within organizations like the BSA isn't anything new. More and more survivors are speaking out about their experiences and seeking justice decades after the abuse occurred. Given the success of numerous mass tort lawsuits, many people are no longer afraid to come forward and seek the compensation they deserve.
Turning Potential Leads Into Actual Clients
When someone is browsing the internet, watching television, or listening to the radio, they become bombarded with ads for products and services. The problem with living in a digital age means there are too many options readily available for consumers. When you're providing legal services, you need a way to stand out from the competition.
TSEG has the experience and knowledge to ensure your firm beats the competition. During our initial meeting, we'll get to know you and the legal services you provide so we can create a personalized strategy. We'll create content and messaging that speak to your goals and engender trust in your firm. And then, we'll analyze the advertising data to ensure we're only spending money on campaigns that give you the returns you need, whether we're advertising on Hulu, Google, Facebook, or a combination of platforms. Our data-driven approach enables our clients to spend half as much on lead generation as they would with our competitors.
Why You Should Contact TSEG
You can't increase your clientele if no one sees your website. Our team at TSEG will work hard to find the right platforms to advertise your legal services. We'll ensure search engines place your ads at the top of their pages, so more people have access to your firm. We'll also help you optimize your Pay-Per-Click campaign, so your ads are placed at the top of Google pages.
Not only is it crucial to understand how to reach potential clients, but it's also necessary to know how to draw them in. At TSEG, we'll increase your exposure so Boy Scout abuse victims understand who you are and that you're the firm they will want to hire for their mass tort case.
To find out more about the digital marketing services we provide or to schedule a mass tort campaign consultation, call us at (512) 394-7234.