Get More Cases Signed With TSEG
TSEG are helping law firms across the country hold Juul accountable for their negligent actions, failure to warn consumers about dangers, and violating consumer fraud laws. The best way to help is by partnering with law firms across the country and helping them connect with Juul victims and their families looking for compensation.
START YOUR JUUL MASS TORT CAMPAIGN NOW
With TSEG running your Juul mass tort campaign, you will have a competitive, industry-leading lead generation campaign that will help you get your target number of sign-ups at a fraction of other marketing firm's costs.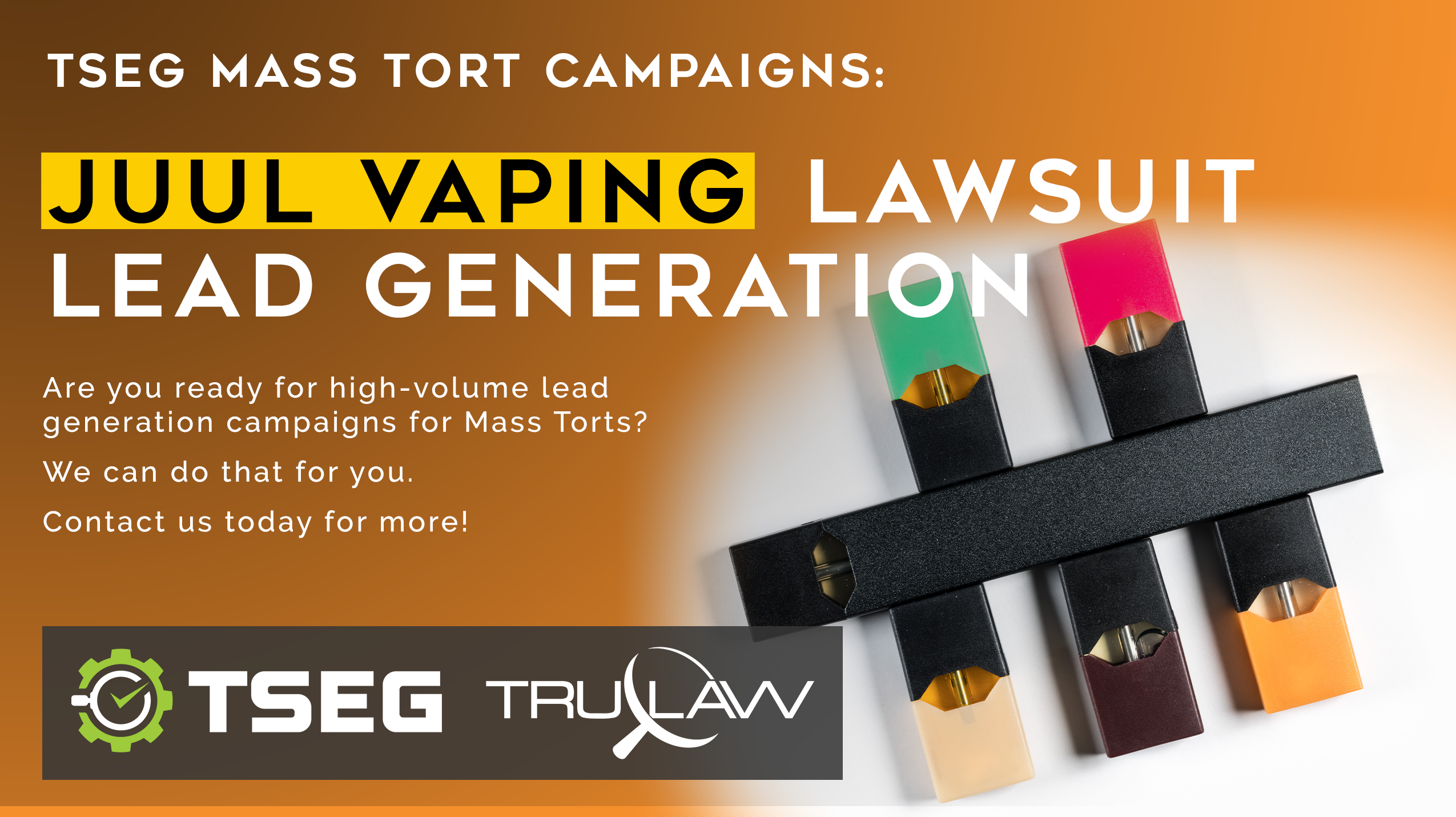 Our process aims to automate everything for your law firm, including the intake stage. We begin with a digital advertising campaign across the highest performing platforms on the internet. These ads will test ad copy, creative, and the ad platforms themselves against each other to quickly find the winning combination for your law firm.

The ads direct traffic to a custom landing page (that we build for you) designed to convert leads into cases. The landing page will include a questionnaire that qualifies potential-new-clients and presents them with a contract upon completion to sign instantly. Again, this is all automated meaning you will only be emailed (or texted) when a contract is signed. Upon request, we can also ensure that information from leads who do not sign will still be sent to your law firm for second follow-ups.
If you are interested in starting a campaign with us, please feel free to reach out to us here or leave your information in the form to the right of this page and we will get back to you as soon as possible.
START YOUR JUUL MASS TORT CAMPAIGN NOW
About the Juul Lawsuit
Personal injury lawyers across America are in increasing demand by a large number of individuals who want to file a Juul E-cigarette case.
PI firms are filing lawsuits on behalf of teenagers, mostly under the age of 18, who became addicted to Juul's products as a result of the company's negligence and false advertising.
The manufacturer of the popular "USB stick" shaped smoking device failed to warn consumers about the health risks associated with using their product. Juul e-cigarettes contain high amounts of nicotine that were not explicitly addressed in their marketing. Juul's marketing heavily focused on falsely claiming that Juul was a safer alternative to smoking than traditional cigarettes.
Additionally, Juul's colorful and fruity flavored pods were used in marketing specifically targeting underage teens. Popularity among younger children has increased tremendously since the company started. As a result, Juul has succeeded in creating a new generation of smokers who are dependent on nicotine.
The injuries claimed in Juul cases include some of the following:
Severe addiction
Nicotine poisoning
Cardiovascular disease
Heart problems
Heart attack
Stroke
Lung failure
Respiratory failure
Mental health issues
Behavioral issues
Seizures
Suicidal behavior
Birth defects or pregnancy complications
Other health risks
While research into Juul's youth vaping epidemic is still in its early stages, experts have begun warning personal injury law firms to prepare for a spike in e-cigarette related lawsuits. The volume of Juul lawsuit cases is expected to continue growing as more information becomes known to the general public about the adverse health risks associated with Juul.
START YOUR JUUL MASS TORT CAMPAIGN NOW